zaterdag, 17 september, 2011, 10:36 am -
Russische
door Martin Braak
Bijna een jaar geleden, december 2010, had ik drie Rusjes die in torpor gingen. Ze brachten hun lichaamstemperatuur omlaag en bleven drie heel dicht bij elkaar zitten. Ik heb ze toen in de woonkamer bij de kachel gezet en ... ze staan er nog steeds! Al negen maanden lang staan ze op dezelfde plaats en het verschijnsel heeft zeker drie maanden geduurd voordat het ophield. Geregeld waren ze weer koud en stil. Trillend.
Het vreemde is dat ze nooit hun volle gewicht weer terug hebben gekregen. Het zwarte vrouwtje weegt maar 20 gram. Wat mij opvalt is dat ze de zonnepitjes laten staan. En dat is juist vettig en worden ze dik van. Ik heb dit nog nooit eerder gezien, drie Rusjes bij elkaar die de zonnepitten laten liggen. Ik ben op een gegeven moment begonnen met het voeren van noten. Ze vinden dit heerlijk, maar toch krijg ik ze niet op gewicht.
Foto 4 september 2011: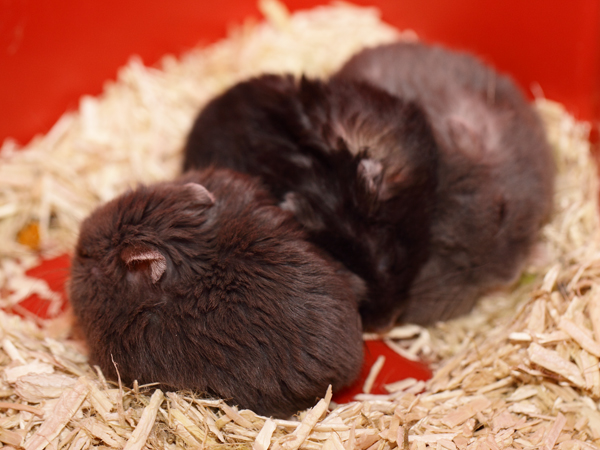 Foto 18 december 2010: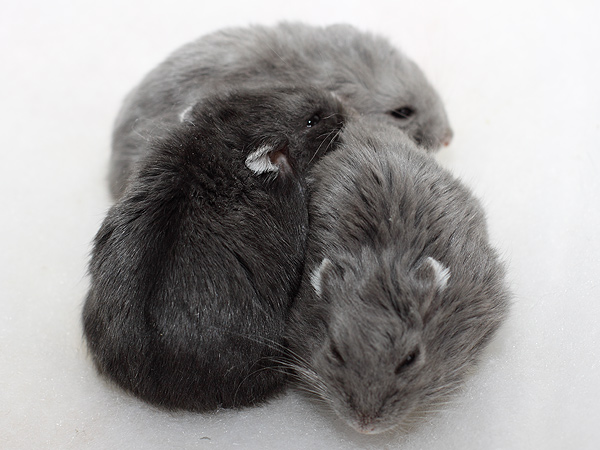 Op Nu.nl staat een artikel over torpor en daarin staat dat het levensverlengend kan zijn. Wetenschappelijk onderzoek met apen heeft ooit aangetoond dat een groep apen die heel beperkt aten veel ouder werden dan de groep apen die overmatig veel eten kregen en aten. Ik geloof dit wel ja.
'Korte winterslaap verlengt leven'
Dieren die korte winterslaapjes houden, verlengen daarmee waarschijnlijk hun leven. Dat hebben wetenschappers uit Oostenrijk aangetoond.
Tijdens een korte winterslaap of torpor neemt de lichaamstemperatuur en de stofwisseling van dieren zoals hamsters gedurende enkele uren sterk af. Daardoor stopt de natuurlijke afbraak van chromosomen die leidt tot veroudering.
Dat meldt nieuwssite Physorg.com op basis van onderzoek aan de Universiteit van Wenen.
Licht
"Onze bevindingen gelden waarschijnlijk voor alle dieren die een torpor of andere vorm van winterslaap houden", verklaart hoofdonderzoeker Christopher Turbill.
De wetenschappers kwamen tot hun bevindingen door hamsters in een laboratorium bloot te stellen aan lage temperaturen en weinig licht. Daarmee lokten ze een kunstmatig winterslaapje uit bij de dieren.
De lichaamstemperatuur en stofwisseling van de hamsters daalden op dezelfde manier als tijdens een natuurlijke torpor.
Telomeren
Uit aanvullend onderzoek bleek dat deze staat van hypothermie grote invloed had op de telomeren van de dieren. Telomeren zijn de uiteinden van chromosomen, die bepalen hoe vaak een cel zich kan delen.
Elke keer dat cellen zich delen, worden telomeren een stukje korter. Als de telomeren 'versleten' zijn en de cellen van een organisme zich daardoor niet meer kunnen delen, treedt uiteindelijk de dood in.
Herstel
Bij de hamsters die winterslaapjes hielden in het labotorium, werden de telomeren veel beter beschermd dan bij soortgenoten die sliepen onder gewone omstandigheden.
Soms herstelden de uiteinden van chromosomen zich zelfs tijdens de periodes van winterslaap. De resultaten van het onderzoek zijn gepubliceerd in het wetenschappelijk tijdschrift Biology Letters.
"Een staat van winterslaap is iets heel anders dan een gewone toestand van slaap", verklaart hoofdonderzoeker Turbill.
Mensen
Volgens de wetenschapper zou ook het leven van mensen mogelijk kunnen worden verlengd als hun lichaamstemperatuur en stofwisseling zouden afnemen tijdens de slaap.
"Maar tot nu toe is de wetenschap nog niet in staat om mensen in een staat van winterslaap of torpor te brengen", aldus Turbill.
(c) Nu.nl
http://www.nu.nl/wetenschap/2615182/kor ... ven--.html